Tuesday, September 13, 2016
Orange Peel
It's widely known that NYC, Austin, and Nashville are among some of America's best live music cities, but you don't have to travel to some of the biggest (or seemingly more popular) cities to see some killer live shows. Emerging smaller cities with pools of musical talent are popping up left and right – Asheville, North Carolina being one of them. Nurtured by a spirit of independence and the muse of the mountain landscape, this lively city has a music scene born from old traditions and a full spectrum of innovative artists. Intimate music halls, mountain-view amphitheaters, iconic concert venues and even the downtown streets set the stage for Asheville's vivacious music scene, playing host to the best of both local and touring artists. The nationally renowned Orange Peel, which has hosted everyone from Blondie to Bob Dylan to Skrillex, is a live venue staple, bringing in music lovers from all over the US. Regardless of if you're hoping to catch a live performance at top venues or wander the city streets listening to street artists, Asheville offers a lively, perhaps unexpected, experience for the musically minded traveler. We've rounded up a couple of B&Bs for enjoying the ideal experience in this Southern music city.
Just minutes away from downtown and the Biltmore Estate, North Lodge on Oakland is central to everything Asheville has to offer. This 1904 bed and breakfast, nestled on an acre of gardens, offers both relaxation and convenience. From the plush cotton bathrobes found in each of the inn's six rooms to the hearty breakfast served, this B&B exemplifies luxury in every detail. Enjoy fresh baked cookies and pastries each afternoon, a 200-title DVD library, in-room flat screen TVs, peaceful gardens, and even in-room massages.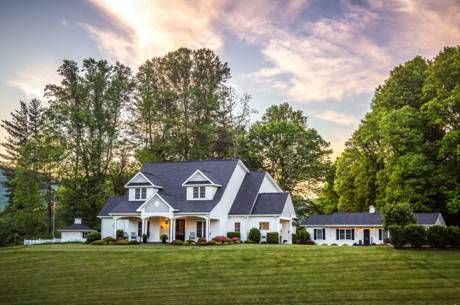 Bed and Breakfast on Tiffany Hill
Looking to stay just outside of Asheville's bustling music, food and beer scene? Bed and Breakfast on Tiffany Hill offers guests casual elegance filled with Southern hospitality. Nestled in the foothills of Western North Carolina, the Bed & Breakfast on Tiffany Hill is conveniently situated in what is known as the "Playground of the South." Just 10 minutes to the Asheville Regional Airport and the Sierra Nevada Brewery, 25 minutes to the Biltmore House and 15 minutes to either Hendersonville or Brevard make this an ideal destination for scoping out the downtown music scene.