Wednesday, March 29, 2017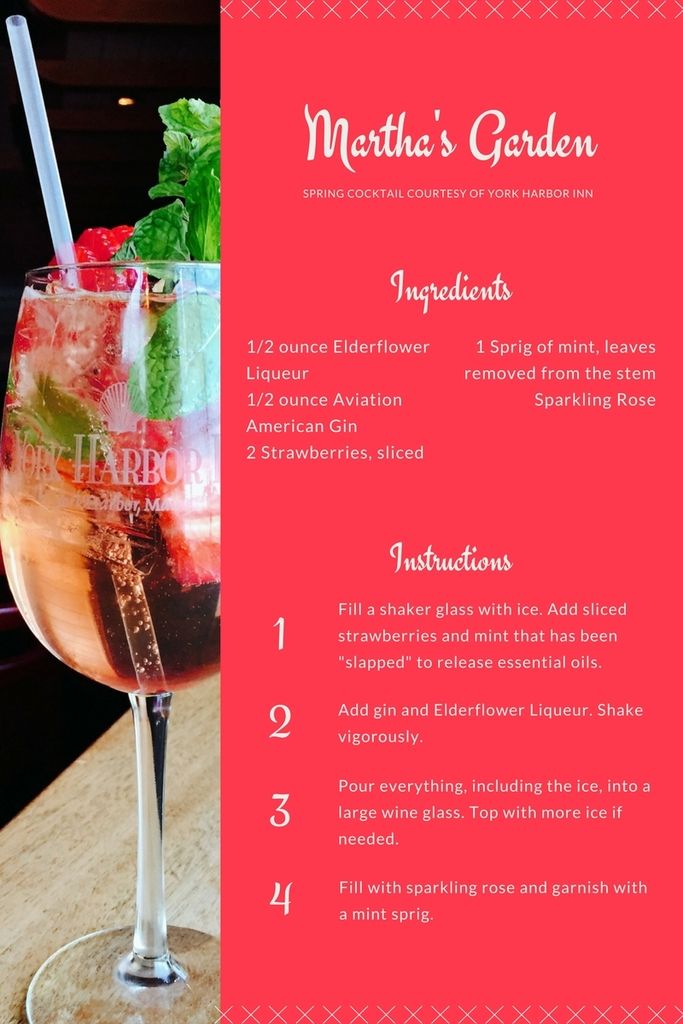 Continuing on our quest to find the best cocktails for the upcoming spring and summer season, this week we are headed to exquisite oceanfront York Harbor Inn in York Harbor, ME. This certified Maine Green lodging property features three dining venues: 1637 Restaurant, Ship's Cellar Pub, and Tavern at Chapman Cottage. Because the inn works with regional purveyors and serves both local patrons and guests, they keep busy year-round. (You may remember our blog back in August about their fall Lobster Lover's Weekend, a must for your B&B bucket list if you're a seafood enthusiast!)
In addition to top-notch dining, York Harbor Inn offers a range of beautiful accommodations in the Main Inn, the Yorkshire Building (sometimes referred to as "The Carriage House"), the Harbor Hill Inn, and the Harbor Cliffs Bed & Breakfast, ranging from nicely decorated double bedrooms and those with partial ocean views, to luxury units that showcase ocean view decks, fireplaces, and/or Jacuzzi spa tubs, plus a three-room suite (a favorite for bridal parties). The ideal accommodations are matched only by the inn's location, which is convenient to the popular Long Sands and Short Sands Beaches; the secluded Cape Neddick Beach; and the quiet Harbor Beach, situated mere steps from the property. Additional attractions include Maine's largest zoo and amusement park, nestled in the heart of York Beach; The Old York Historical Society, which has a community museum and the oldest jail in the U.S.; and of course, the Nubble Lighthouse, one of the most beautiful and frequently photographed lighthouses in America.
After taking in all of the area attractions, kicking back and relaxing with a cocktail is a great way to wrap up the day. Martha's Garden is a perfect choice, and it's got a great origin story. "Martha's Garden is a tip of the hat to our inn's gardener, Martha Donnell, who has been our master gardener for several years," explains innkeeper Garry Dominguez. "Each year she plants the inn not only with flowers but edibles as well, which we use in cooking and cocktail recipes." We raise our glass to that!
Want even more inside info on York Harbor Inn? Check out this recent feature about them, "Staying Local and Loyal," in Food & Drink International Magazine!
All images courtesy of York Harbor Inn.