Tuesday, May 5, 2015
Cinco de Mayo marks a big win for Mexico by commemorating a victory over the French at the Battle of Puebla in 1862. Today we'll be celebrating by showing off a beautiful property South of the Border and a hot recipe for guacamole, the former belongs on your bucket list and the latter is ideal for festivities at home or abroad!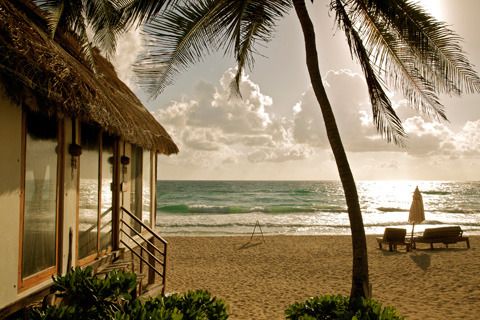 Casa Violeta
Mi Casa Is Tu Casa
Casa Violeta in Tulum is like a dream come true. This oceanfront oasis features 10 rustically-designed palapas (bungalows) each facing the Caribbean and featuring its own unique character, including thatched roofs. They were designed with modern amenities to make guests' stays luxurious and relaxing. Here visitors can fall asleep to the sound of the ocean and enjoy their own little tropical paradise, far away from the crowds. This boutique hotel also offers an on-site restaurant, yoga studio, spa, shop, various packages plus excursion trips for those who want to explore the region's history or enjoy some outdoor adventure. This property is the perfect place for relaxation or romance and is situated a short distance from the beach and the Sian Ka'an Biosphere.
Chestnut Street Inn's Roasted Jalapeno Guacamole
Your One and Only – It's Guacamole!
What's the one food that immediately comes to mind when you think of Mexican delights? Guacamole is our top pick, and with plenty of spice is when it's just right. That's why we had to suggest this hot recipe of Roasted Jalapeno Guacamole from Chef Monika Sudakov of the Chestnut Street Inn in Sheffield, IL. It gets the party started right.
Ingredients:
4 ripe avocados
1-2 jalapenos, roasted, peeled and chopped
4 scallions, minced
2-3 garlic cloves, minced
1 Roma Tomato, seeds removed and finely chopped
Pinch Salt and Pepper
1 Lemon
1 tsp cumin
1 tsp paprika
2 Tbl cilantro, chopped
Directions:
Over an open flame using tongs, char exterior of the jalapenos and place into a freezer bag. Or, alternately, if you have an electric oven, heat to 375 degrees and place jalapenos on a baking sheet and roast in the oven for approx. 15-20 mins or until the skins begin to blacken, then transfer to freezer bag. Allow jalapenos to sit for approx. 1/2 hr and then peel, chop and place into a bowl. Add chopped tomato, scallions and garlic. Run knife around pit of the avocado to slice it in half. Twist apart to expose pit. Strike the pit with a sharp butcher knife and remove. Score avocado meat into small chunks in the peel and remove with a tablespoon. Add to the bowl. Season with salt, pepper, cumin and paprika. Add juice of one lemon and 2 Tbl chopped cilantro. Using a fork, lightly mash avocado and stir to combine. If you would prefer a smoother guacamole, put mixture in a food processor and puree to your liking. Note: If you are making this well in advance, add 1 drop of green food dye to the guac to keep it nice and green for longer. Serve with chips and crudites.