Thursday, July 2, 2015
July 4th brings with it the distinct smell and taste of barbecue season. Whether you use propane, wood, or coal, there is nothing like sinking your teeth into a perfectly cooked burger or a set of mouth-watering ribs. In honor of grills being fired up across the country, we have picked out a finger-licking good recipe from Sage Hill Inn Above Onion Creek in Kyle, TX – their famous Pulled Pork Sandwiches. So without further ado, it's time to get grilling with a recipe every carnivore will crave.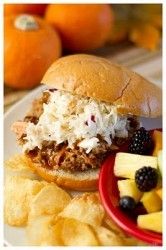 Sage Hill Inn Above Onion Creek
Ingredients:
Pork Shoulder
Dry Rub:
1 cup kosher salt
3/4 cup brown sugar
1/2 cup freshly ground black pepper
1/2 cup garlic powder
1/2 cup onion powder
1/2 cup paprika
1/2 cup ancho chile powder
1/2 cup cayenne powder
1/4 cup mustard powder
(This will make plenty of rub. Make sure to store in an airtight container for future use.)
Directions:
1. Apply rub on all sides of the pork shoulder. It's best to do this the day before. However, it will still be very good if seasoned right before cooking.
2. Preheat the smoker to 200-250 degrees. We use oak and mesquite because it's readily available to us, but any wood like pecan or hickory will do fine.
3. Place the shoulder as far away as possible from the heat source. The idea here is to infuse the meat with the smoke for half its cooking time. The other half will be done in the oven. The reason for this is not to over smoke the meat. Pork shoulder is a tough cut of meat that needs to cook low and slow; leaving it to smoke the entire time would result in meat that is overwhelmed by the smoke. However, some people like a strong smoke flavor, so it's totally up to you. Three to four hours in the smoker should be plenty of time.
4. After the meat is properly smoked, put it in a 225 degree oven for about four hours or until a fork slides in easily. When the shoulder is done, let it rest for 15-20 minutes. Use two forks to "pull" the meat into bite-sized chunks. Make sure to put some of the pan drippings (make sure to skim the fat) back into the meat. The rest of the drippings can be used to fortify your favorite barbecue sauce.
5. Serve the pork on toasted rolls or buns with sliced onion and pickles and enjoy.
For more delicious recipes, make sure to take a look at our Recipe Page.