Thursday, October 23, 2014
In 1856, in the kitchen of the Parker House Hotel in Boston, MA an Armenian-French chef by the sur-name of Sanzian, invented the Boston Cream Pie. Although called a pie, Boston cream is technically a cake. It consists of two round layers of sponge cake with a thick vanilla custard filling. Also a popular doughnut, coffee and ice cream flavor – this crowd favorite comes in many forms.
So celebrate National Boston Cream Pie Day in the traditional style and give Cliff Cottage Inn's delicious recipe a try!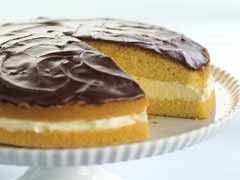 Boston Cream Pie
Boston Cream Pie by Cliff Cottage Inn Luxury B&B Suites and Historic Cottages
Ingredients:
CAKE:
3 large eggs, separated
1 teaspoon pure vanilla extract
1/2 cup granulated sugar
Pinch of salt
3/4 cup cake flour
FILLING:
1/2 cup granulated sugar
1/4 cup all-purpose flour
1 – 1/2 cups milk
6 large egg yolks
2 teaspoons pure vanilla extract
Pinch of salt
Cliff Cottage Inn
CHOCOLATE GLAZE:
1/2 cup granulated sugar
3 tablespoons light corn syrup
2 tablespoons water
4 ounces (4 squares) semi-sweet chocolate, coarsely chopped
Directions:
Preheat oven to 350 degrees
Grease 9-inch round cake pan and line with waxed paper
CAKE:
Beat together the 3 egg yolks and vanilla at medium speed until blended
Beat in half of sugar until very thick and pale
Using clean dry beaters, beat together egg whites and salt at medium speed until very soft peaks form.
Fold yolk mixture into egg whites.
Sift flour over mixture and fold in gently. Don't over-mix!
Pour batter into prepared pan and bake until top springs back when lightly pressed, about 25 minutes.
Loosen cake by running a metal spatula around sides of pan. Invert cake onto a wire rack. Remove pan, leaving waxed paper on cake. Turn cake right side up.
Cool completely on rack.
FILLING:
In a saucepan, mix together sugar and flour.
Gradually whisk in milk, then egg yolks, vanilla and salt.
Bring to boil over medium heat; boil for one minute, whisking constantly.
Strain through a fine sieve into a bowl.
Press plastic wrap on surface and chill for 30 minutes.
Using a serrated knife, cut cake horizontally in half. Carefully removed waxed paper. Place bottom layer on a serving plate and spread evenly with filling.
Top with remaining cake layer.
CHOCOLATE GLAZE:
In a saucepan, bring sugar, corn syrup and water to a boil over low heat, stirring constantly until sugar has dissolved.
Remove from heat.
Add chocolate and let stand for one minute. Whisk until smooth.
Gradually, pour glaze over cake, allowing it to drip down the sides.
Let stand until glaze sets.
NOTE: Boston Cream Pie must be stored in the fridge.